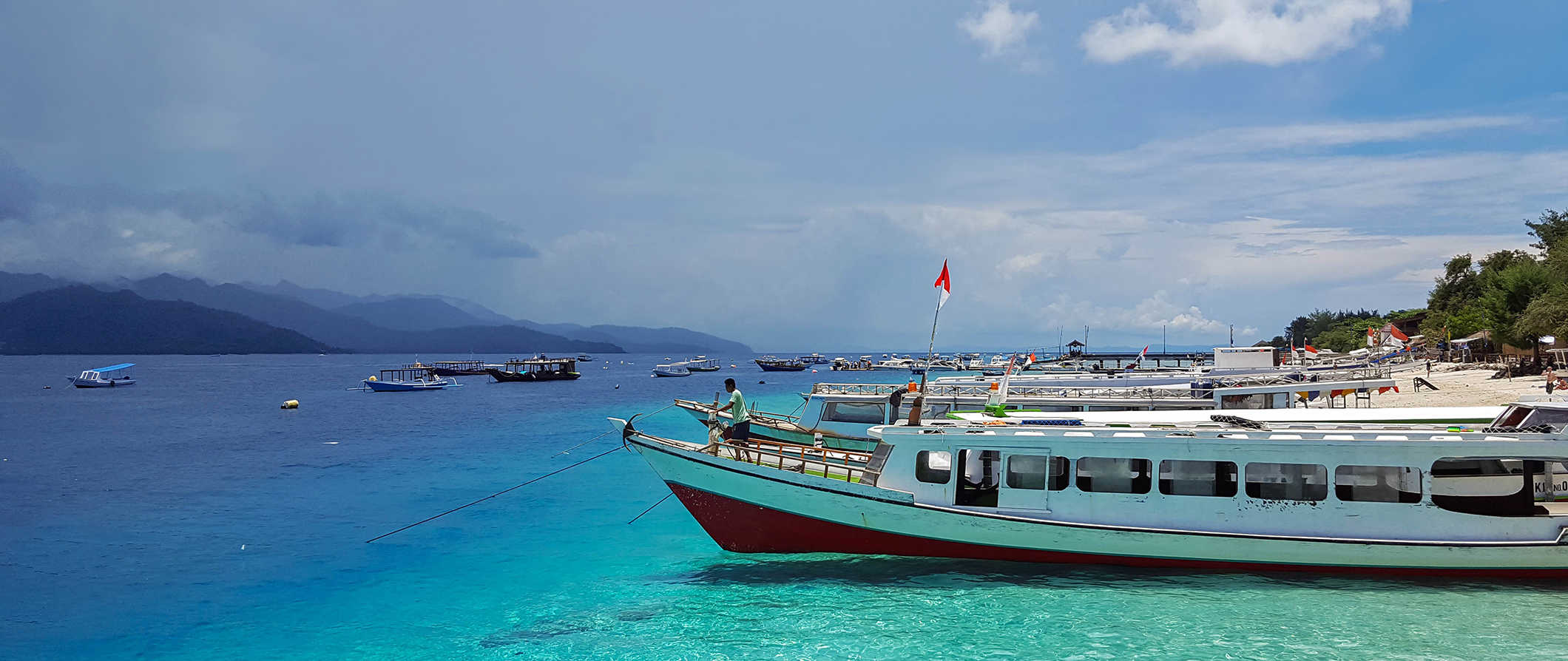 Situated just off the coast of Lombok in Indonesia, the Gilis are a hugely popular island destination for those visiting Indonesia. While there are several Gili Islands (including Gili Asahan and Gili Gede, south of Lombok) we usually refer to three main islands when talking about the Gilis: Gili Air, Gili Meno, and Gili Trawangan, also known as Gili T.)
Though they are not as tranquil and cheap as they used to be, if you're looking for a quiet alternative to Bali — with even better beaches and seafood — head to the Gilis. They offer incredible diving, stunning beaches, and plenty of opportunities for rest and relaxation. Not a lot happens here so if you're looking for a chill beach spot away from the chaos of Bali, this is the place for you!
This guide to the Gilis can help you plan your visit, save money, and make the most of your time here.
Top 5 Things to See and Do in the Gili Islands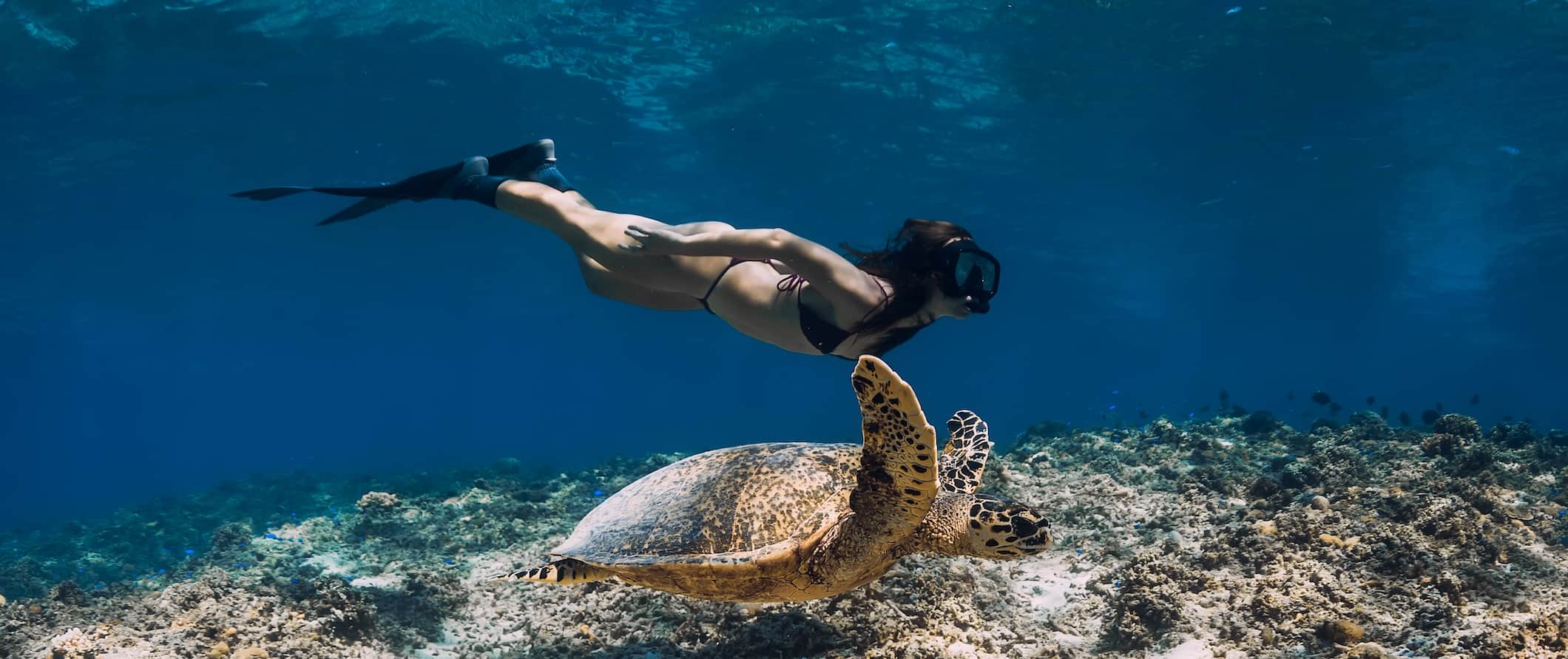 1. Lounge on the beaches
The Gili Islands have postcard-perfect beaches with white sand and clear, warm waters in a brilliant shade of turquoise. It's really a beach paradise here. Some of the beaches, particularly on Gili T, have sun loungers for use by customers of the bar, restaurant, hotel, or dive shop or you can just rock up with a towel. Grab a book, pour a drink, and sit back and enjoy the view.
2. Go scuba diving
Lionfish, scorpion fish, cuttlefish, octopus, and different types of rays fill the waters around the islands. All three islands have lots of scuba diving training centers and, in my opinion, the diving here is better than Bali (it's cheaper to learn here too). An Open Water certification costs around 5,900,000 IDR. A single tank dive with Trawangan Dive on Gili T costs 540,000 IDR but discounts are available for three dives or more and group bookings. All divers are required to pay a 100,000 IDR Marine Park fee and a Gili Eco Trust donation of 50,000 IDR.
3. Learn to surf
The southern tip of Gili T has the best surfing in the area, offering good waves all year round. If you want to stay at a surf camp, expect to pay around 5,000,000 IDR for a 6-day camp (this includes lessons, accommodation, breakfast, snorkeling, and other activities). A single surf lesson costs around 300,000 IDR.
4. Visit the sea turtles
Gili Trawangan and Gili Meno have hatcheries that lie right on the island's big beaches, but you can also go snorkeling to see the turtles in their natural habitat. Take a tour or rent some snorkeling gear and ask your hotel/hostel staff for the best spots to see them. Remember never to touch the turtles you see, stay at least two meters away, and never use flash photography around them. In nesting season, Gili Eco Trust goes out before dawn each morning to mark the nests so they aren't disturbed. Watch out for their flags and keep clear!
5. Bike the islands
These islands are so small, that it won't take you long to tour each one by bike (Gili T is the largest and is still only 7 kilometers all the way around). Pack some snacks and beach gear and make an afternoon of it! If you have snorkeling gear you can jump in the sea at any time to see the beautiful island reefs that are just offshore. Bike rentals start at 40,000 IDR per day.
Other Things to See and Do in the Gili Islands
1. Go snorkeling
There are tons of places to snorkel around the islands. You can take a private boat if you are with a large enough group, rent snorkeling gear, or do an organized boat trip. A 4-hour snorkeling tour (with pickup) costs around 300,000 IDR per person. Renting the gear is quite cheap, usually costing just 25,000 IDR. Approach any of the little stalls on the beach as most of them have masks and fins just under the counter.
2. Party on Trawangan
Out of all the islands, Gili Trawangan is the party island (Gili Meno is the quietest). Party nights are regular and are rotated between the bars, which usually stay open until 4am. The famous Full Moon parties are held on the beach on the southern part of Trawangan with a DJ playing until sunrise. If your visit means you miss the full moon, Mad Monkey hostel has a foam party in the pool every Friday.
3. Try some water sports
There are tons of water sports to enjoy on the islands, such as parasailing, water-skiing, and wakeboarding (which all cost between 600,000-900,000 IDR. For something more relaxed, you can rent a paddleboard for 100,000 IDR.
4. Go kayaking
On the northern side of Trawangan, you can rent kayaks or take a guided tour of the island. On your trip, expect to encounter rays, turtles, and other wildlife. Karma Kayaks is a reputable place to rent them from. A guided day trip costs around 300,000 IDR per person. You can also rent clear bottom kayaks at Fly Gili Parasailing on Gili T.
6. Watch the sunset
Watching the sunset in Gili Trawangan is an unmissable experience. To enjoy the Gili T sunset, the most popular spots are to the southwest of Gili Trawangan, around Sunset Paradise Bar or Exile Gili Trawangan. But really you can get a great view anywhere along the west coast from the Mad Monkey hostel down. Many people head to these popular places to watch the sunset so get there early to find a good spot.
7. Eat at the night market
The Gili T night market opens every day at 6pm. Located in front of the main pier, there are stalls selling meat skewers, rice, vegetables, seafood, noodles, tofu, sate, grilled corn on the cob, and more. You can get a huge plate with meat skewers, rice, vegetables, and a dessert for as little as 30,000 IDR.
8. Enjoy live reggae music at Sama Sama
The Sama Sama Reggae Bar offers live reggae music every night. The vibe is relaxed, and dozens of budget travelers head there to chill out, get something to eat, chat with other travelers, and have a beer. ("Sama Sama" means "you're welcome" in Indonesian.)
9. Attend an Indonesian cooking class
Attending an Indonesian cooking class is a fun way to learn something new during your time on the Gili Islands. The cooking classes teach you how to make classic Indonesian meals like Nasi Goreng (a fried rice dish) and Mie Goreng (a spicy noodle dish). They cost around 300,000-400,000 IDR per class and make for the perfect souvenir.
11. Go fishing
Spending a full day fishing is a relaxed way to enjoy the scenery around the islands while also catching your dinner. The locals teach you how to use worms as bait for luring fish and, if you're lucky, you will actually catch your dinner. Your guide can show you how to prepare your catch at the end of the trip too. Expect to pay 1,200,000 IDR for two people for a fishing charter.
12. Attend a yoga class
There are daily yoga classes on all three islands (especially Gili Meno). It's possible to attend a yoga class by yourself with a teacher or with a group class. A one-hour group class costs around 120,000 IDR. For an in-depth yoga experience, book a yoga multi-day retreat. Four-day passes start from 2,500,000 IDR.
12. Go horseback riding
There are several stables on all three islands offering horseback riding. You can opt for anything from a short beach ride to a full round-the-island ride. STUD Horse Riding and Rescue is the oldest on the island and one of the few places with a focus on animal welfare. Prices start at 300,000 IDR for a half-hour ride or 650,000 IDR for a round-the-island tour.
13. Join a beach clean-up
The amount of trash that washes up on the shores of Gili every day isn't as bad as in Bali but it's still significant. There are several organizations that run beach clean-ups including some hotels, hostels, and dive operators. Gili Eco Trust runs a one-hour beach clean-up called Debris Free Friday every week at 5pm on Gili T, followed by a free Bintang beer. Check their website or Facebook page for meet-up details.
 
For more information on other destinations in Indonesia, check out these guides:
The Gili Islands Travel Costs
Hostel prices – A bed in a dorm room with 3-6 beds starts at around 65,000 IDR per night, though more commonly they cost 100,000 IDR or more. A private room costs 150,000-300,000 IDR. Most hostels have Wi-Fi, hot water for showers, and AC — but not all do so be sure to check before you book.
Budget hotel prices – For a double room with a private bathroom, AC, Wi-Fi, and free breakfast expect to pay at least 300,000-500,000 IDR per night.
Airbnb is available throughout the islands. Private rooms start at around 400,000 IDR per night while you can expect to pay at least 600,000 IDR for an entire home or apartment, although prices can be as high as 2,000,000 IDR. Book early to find the best deals.
Food – Food in Indonesia is heavily influenced by a number of cultures, most notably Chinese, Indian and Malay cultures. Lots of dishes have a rice (nasi) or noodle (mie) base and, in some cases, that's the whole dish, such as with nasi ayam (chicken rice). Be sure to try the Balinese take on satay (where the meat is minced and wrapped on skewers) and babi guling, a delicious suckling pig that is roasted for hours. Another popular choice is oxtail soup. Be mindful that the food here can be a little spicy.
Most meals cost between 30,000-75,000 IDR. This includes local favorites like nasi goreng (stir-fried rice with chicken, egg, and vegetables) and mie goreng (spicy fried noodle dish with garlic, onion, meat, egg, and vegetables). For the cheapest food, shop at the markets like the night market mentioned above.
Meals at mid-range restaurants cost around 175,000 IDR. A seafood dinner costs around 135,000 IDR.
In mid-range restaurants, you can often find Western food (pasta, pizza, salad, etc.) but it's usually not great. Avoid it and save your money by eating Indonesian food and fresh caught seafood.
If you eat at any more luxurious hotels or restaurants, keep your eyes open for hidden taxes. They are usually between 5-25% and are not explicitly mentioned before the bill comes.
A beer costs around 45,000 IDR. Expect to pay 17,000 IDR for a bottle of water.
A week's worth of groceries costs between 500,000-700,000 IDR for things like veggies, fruit, bread, and other staples. Where possible, stick to local food items, as imported foods like wine, cheese, chicken, and beef are super expensive and buying them often ruins your budget.
The Gili Islands Suggested Budgets
If you're backpacking the Gili Islands, my suggested budget is 400,000 IDR per day. This assumes you're staying in a hostel dorm, eating cheap street food, walking everywhere, limiting your drinking, and doing mostly free activities like swimming and enjoying the beaches.
On a mid-range budget of 1,500,000 IDR per day, you can stay in an Airbnb, eat out all your meals, rent a bicycle, enjoy a few drinks, and do a few paid activities like kayaking or diving.
On a "luxury" budget of about 2,350,000 IDR or more per day, you can stay in a hotel, get any food you want, and enjoy all the attractions the islands have to offer, including private tours and diving classes/excursions. This is just the ground floor dor luxury though. The sky's the limit!
Accommodation
Food
Transportation
Attractions
Average Daily Cost
Backpacker
100,000
150,000
75,000
75,000
400,000
Mid-Range
350,000
300,000
250,000
$200,000
1,100,000
Luxury
750,000
600,000
500,000
500,000
2,350,000
The Gili Islands Travel Guide: Money-Saving Tips
The Gili Islands are a lot cheaper than other parts of Indonesia. You won't spend too much simply because there's not a lot to do (unless you scuba dive which will be expensive). If you're looking to save money while visiting, here are some tips and tricks that help:
Rent a bike – Rent a bike for as little as 40,000 IDR per day. It's is a budget-friendly way to get around.
Eat at street stalls – There's a wealth of stalls selling delicious food for around 13,000-21,000 IDR. Eat here instead of the more expensive western restaurants and really get a sense of the local culture.
Bargain hard – Nothing is ever at face value in Indonesia. Bargain with sellers as most of the time the price they've quoted isn't the price you pay if you haggle!
Bring a filtered water bottle – Indonesia has a waste problem, and much of it gets burned. You'll see (and smell) it during your visit. Bring a reusable water bottle with a filter to save money — and the environment. I like Lifestraw as it has a built-in filter to ensure your water is always clean and safe.
Where to Stay in the Gili Islands
To help you find a fun and affordable place to stay, here are my recommended hostels in the Gili Islands:
How to Get Around the Gili Islands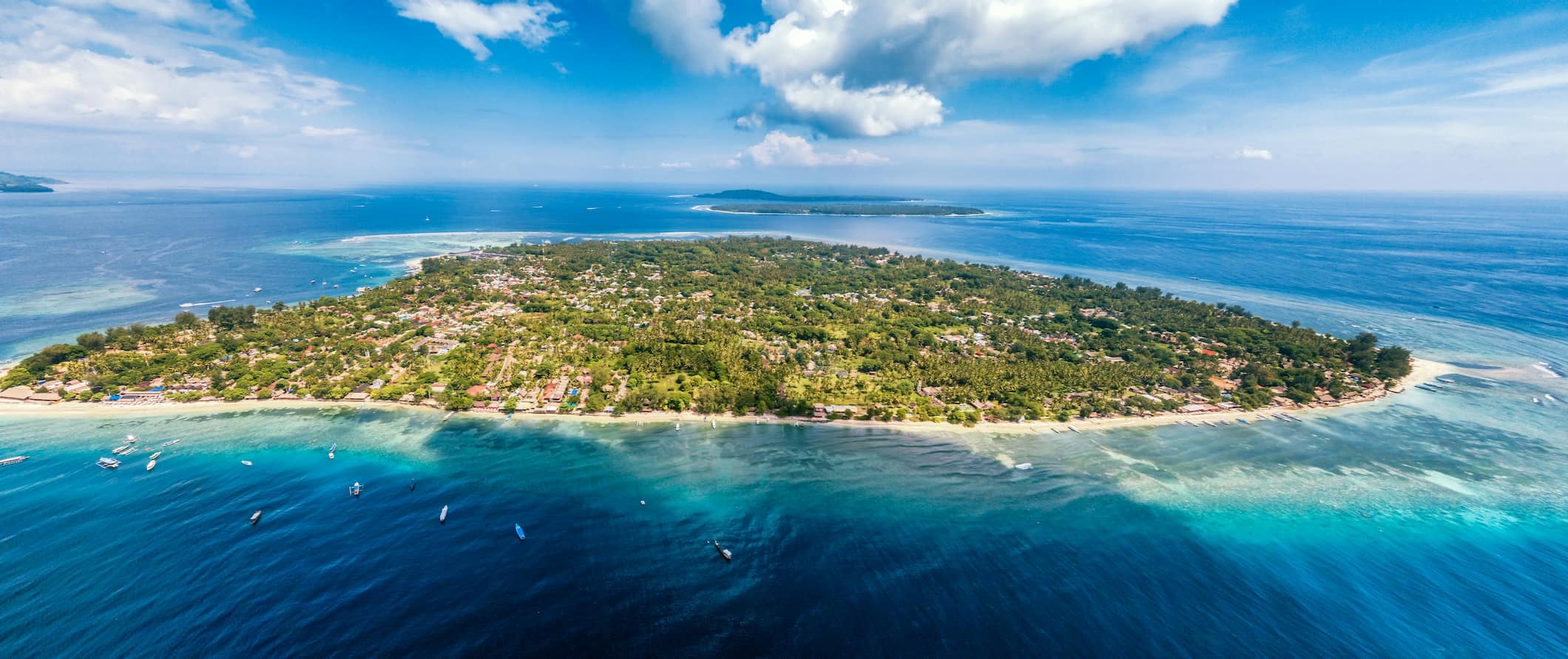 On foot – The Gili Islands are quite small and you can easily get around by foot. In fact, it only takes about two hours to walk around each island.
Bicycle – Like walking, cycling is an easy way to get around each island. Bike rentals start at 40,000 IDR per day.
Horse carts – There are numerous horse carts (cidomos) providing transport around the island. Historically, using them has been controversial as the horses have been treated poorly. These days improvements have been made thanks to educational work done by organizations such as Horses of Gili, Gili Eco Trust, Dental Vet, Animal Aid Abroad, and Jakarta Animal Aid Network — but the situation is still far from ideal.
If you can avoid using them, do so. If you must ride them, limit the load to two people plus baggage, check the condition of the horse before agreeing to the ride, and offer to give the driver fresh water for the horse.
Ferry – To get between islands, the boat leaves Gili Trawangan twice per day, at 9:30am and 4pm. It first stops at Gili Meno, then Gili Air, before heading back to Gili Trawangan. The one-way ride is about 50,000 IDR. It's also possible to charter a private boat, which costs about 200,000 IDR one-way.
For the ferry back to Bali or Lombok, you need to use your negotiation skills and prices have increased recently. You can expect to pay anything from 300,000-600,000 IDR (one-way). When paying, the seller is going to ask where you want to go: either Lombok, Kuta, Ubud or the Bali airport. If you arrive to the Gili Islands from Bali, it's possible to pay a return trip. It's an open return ticket, meaning you can go back to Bali from the Gili Islands when you want to.
All boats returning to Bali have to call through Lombok and many don't (or can't) pick up passengers in Gili meaning you have to get a small boat to Bangsal and then transfer on to the bigger boat.
When to Go to the Gili Islands
The peak seasons for visiting the Gili Islands are between July-August and December-January. This is when the Gili Islands experience a huge influx of visitors. Prices can increase significantly during this time and you won't get to enjoy crowd-free beaches. If you're visiting during this time, book your accommodation in advance.
For fewer crowds, visit between September-November. It won't rain much since it's the shoulder season.
The dry season lasts from May-October, while the monsoon season starts in November and goes until April. During the dry season, temperatures range from 22-34°C (71-93°F). Expect regular rains during the monsoon season, though they are usually short (but heavy). The rainy season is the least-busy time of year as well. The days are still sunny though the nights are a bit cooler.
How to Stay Safe in the Gili Islands
The Gili Islands are a relatively safe place to visit. You won't face constant scams or pick-pocketing here. That said, it's always a good idea to keep your wits about you and make sure your valuables are secure and out of reach at all times.
There are a lot of drugs on the islands, particularly on Gili Trawangan. Keep in mind Indonesia is a very strict country when it comes to selling, possessing, and consuming drugs. I don't recommend doing them because if you get caught you're going to end up in jail.
Doing water sports is fun and relaxing, but at times there are strong currents between the islands — especially in the northeast. Don't underestimate their power. If you're not a great swimmer, avoid snorkeling alone, check all your gear to make sure it's in good condition, and ask about the currents before you get in the water.
Solo female travelers should generally feel safe here, however, the standard precautions apply (never leave your drink unattended at the bar, never walk home alone intoxicated, etc.). Specific solo female travel blogs on the islands can give you more specific tips.
If you experience an emergency, dial 112 for assistance.
The most important piece of advice I can offer is to purchase good travel insurance. Travel insurance protects you against illness, injury, theft, and cancellations. It's comprehensive protection in case anything goes wrong. I never go on a trip without it as I've had to use it many times in the past. You can use the widget below to find the policy right for you:
Gili Islands Travel Guide: The Best Booking Resources
These are my favorite companies to use when I travel. They consistently have the best deals, offer world-class customer service and great value, and overall, are better than their competitors. They are the companies I use the most and are always the starting point in my search for travel deals.
Skyscanner – Skyscanner is my favorite flight search engine. They search small websites and budget airlines that larger search sites tend to miss. They are hands down the number one place to start.
Hostelworld – This is the best hostel accommodation site out there with the largest inventory, best search interface, and widest availability.
Agoda – Other than Hostelworld, Agoda is the best hotel accommodation site for Asia.
Booking.com – The best all around booking site that constantly provides the cheapest and lowest rates. They have the widest selection of budget accommodation. In all my tests, they've always had the cheapest rates out of all the booking websites.
Get Your Guide – Get Your Guide is a huge online marketplace for tours and excursions. They have tons of tour options available in cities all around the world, including everything from cooking classes, walking tours, street art lessons, and more!
SafetyWing – Safety Wing offers convenient and affordable plans tailored to digital nomads and long-term travelers. They have cheap monthly plans, great customer service, and an easy-to-use claims process that makes it perfect for those on the road.
LifeStraw – My go-to company for reusable water bottles with built-in filters so you can ensure your drinking water is always clean and safe.
Unbound Merino – They make lightweight, durable, easy-to-clean travel clothing.
Gili Islands Travel Guide: Related Articles
Want more info? Check out all the articles I've written on Indonesia and the Gili Islands travel and continue planning your trip: