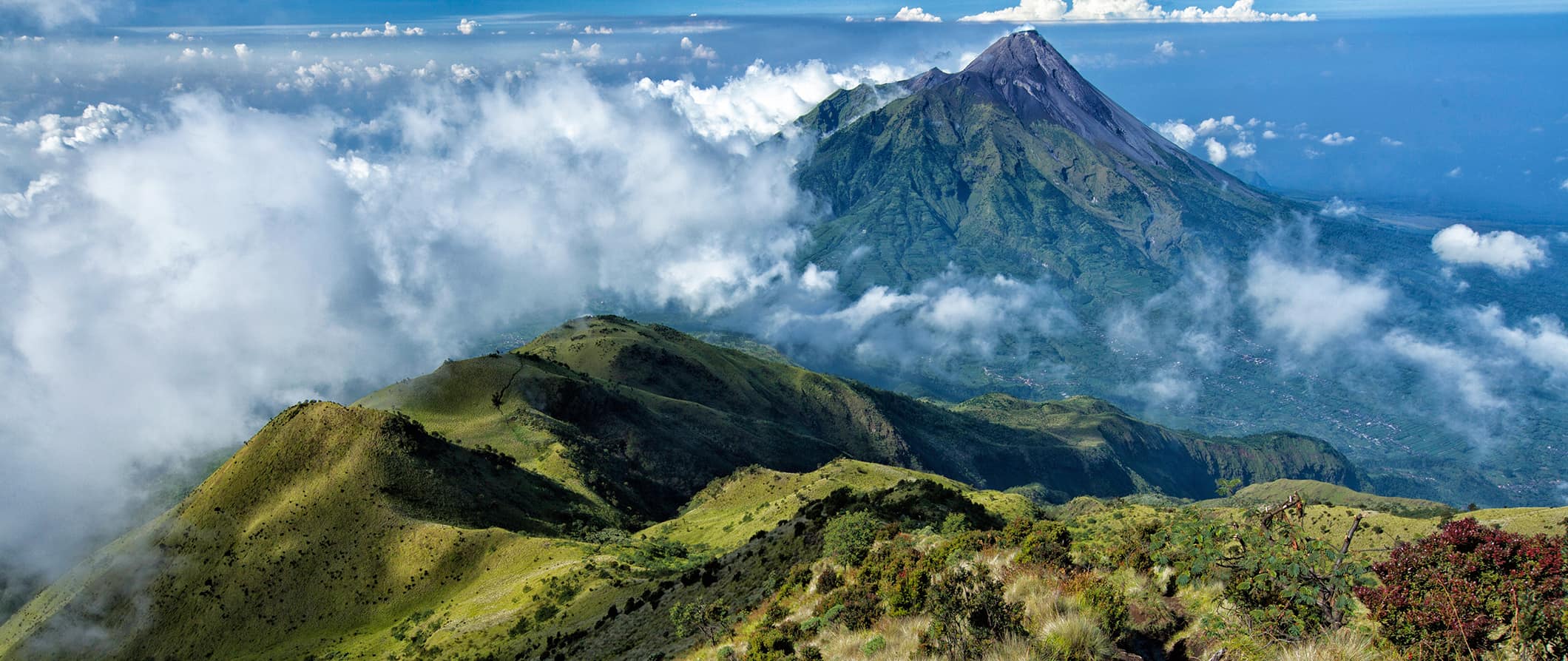 With over 17,000 islands, Indonesia is the world's largest island country. Home to over 261 million people, it boasts stunning landscapes, incredible beaches, amazing food, and affordable prices.
While most people just visit Bali, backpacking further afield in the country is an underrated activity. With so much on offer, it can take months to see everything because there is just so much to see and do here: hectic and chaotic cityscapes, cool white sand beaches, and violent volcanoes. Indonesia has it all.
And it's easy to visit Indonesia on a budget too. It's extremely inexpensive and your money goes far here.
While most travelers fly to Bali and visit the Gili Islands or head to Lombok, I encourage you to try to get to the less touristy destinations and off the beaten path. Find dragons in Flores, go hiking, see the historic ruins of Java, and go to Sumatra. You'll find even cheaper prices and far fewer crowds once you escape the digital nomad hub of Bali.
This Indonesia travel guide can help you plan your trip, save money, and make the most of your time in this island paradise!
Click Here for Destination Guides
Top 5 Things to See and Do in Indonesia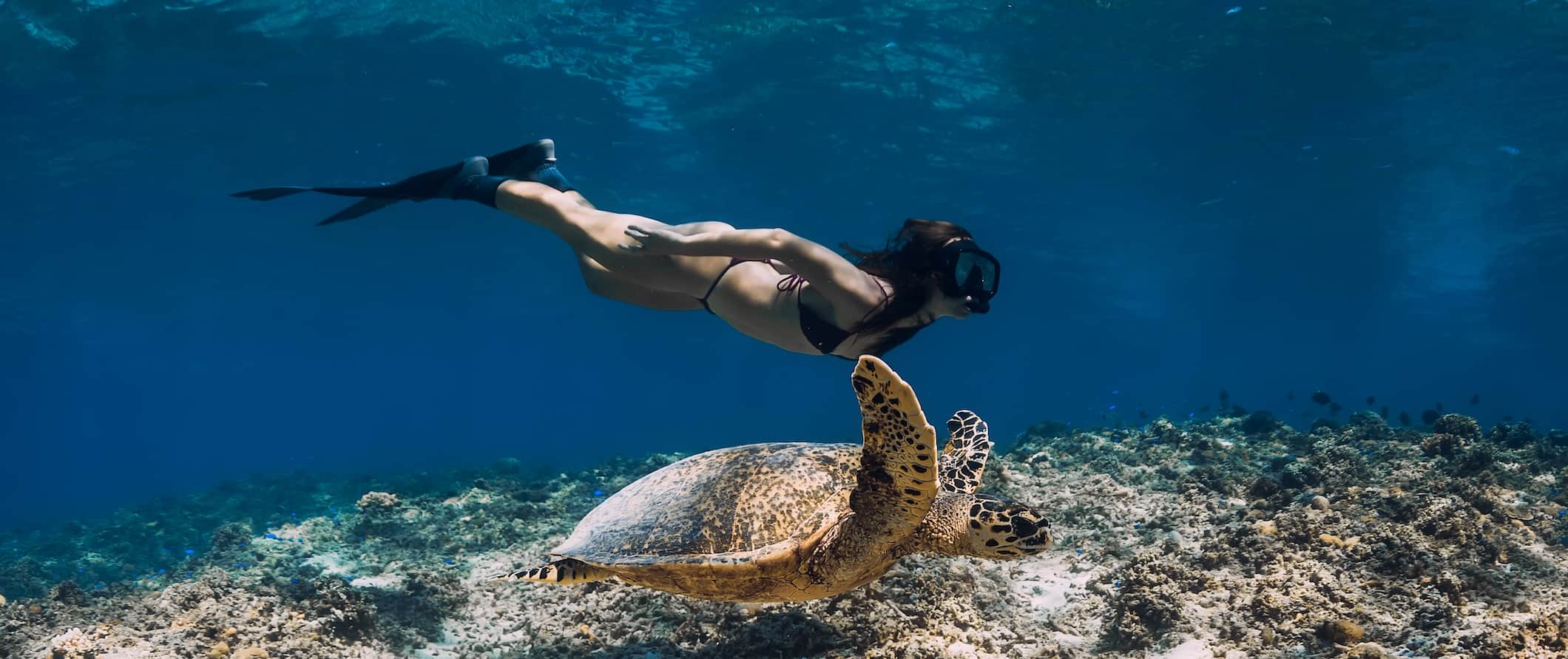 1. Relax in Bali
Bali is probably the most famous of Indonesia's islands. Although often crowded with travelers, there is no escaping the fact that this place is beautiful. Try some surfing at Bingin Beach or visit the Pura Besakih, the Mother Temple, which is truly stunning to behold. Make sure you see some traditional Balinese dancing in Ubud too. You can also join a yoga retreat pretty much anywhere on the island and cooking classes are also plentiful and make for a great souvenir.
2. Dive in the Gili Islands
For a true sense of an island paradise, head to the Gili Islands. There are excellent (and cheap) scuba and snorkel facilities as well as great nightlife on Gili Trawangan. These islands are super popular with backpackers thanks to their super cheap accommodation and food, party scene, and stunning beaches for lazing around all day.
3. Admire Borobudur
Borobudur is a the world's biggest Buddhist temple complex, dating from the 8th and 9th centuries. With 2,672 reliefs meant to highlight Buddhist teachings, it's made from blocks of volcanic rock. Each level is supposed to describe the stages of life. It is said you can't move on to the top until you discover the meaning of each relief. Admission for foreign adults is around 380,000 IDR.
4. See Komodo dragons
The subject of more nature documentaries than any other lizard, the Komodo dragon is a force to be reckoned with. Komodo National Park, part of the Lesser Sunda Islands, is the only place to see the world's largest lizard in the wild, which grows up to 10 feet long and weighs over 135 kilograms (300 pounds). Admission is 150,000 IDR during the week, with prices rising to 250,000 IDR on Sundays and holidays (just note that there are additional fees for other activities including ranger fees, hiking fees, diving fees, and so on). The only way to really visit Komodo National Park is on a tour since the islands are over an hour away from Labuan Bajo port on Flores Island.
5. Visit Bromo-Tengger-Semeru National Park
Bromo-Tengger-Semeru National Park covers a total of 800 square kilometers (308 square miles) at the center of East Java and is the largest volcanic region in the province. Get up early to catch one of the most memorable sunrises of your life from the top of Mount Bromo or Mount Semeru. The easiest way to get here is from Probolinggo, through the village of Ngadisari. Although it doesn't take long to get to the summit (around 45 minutes up a sandy slope) and access to the trail is free, a number of tour operators run guided trips through the park, which includes transport to and from the park.
Other Things to See and Do in Indonesia
1. Explore Hindi Prambanan
There are 244 temples at this 9th-century UNESCO World Heritage Site, with the central compound being the main attraction. There are eight minor temples and eight major temples here, with the tallest being 45 meters (150 feet) — which is actually taller than Borobudur. Located in Yogyakarta, there's a lot to see, so schedule a full day here (it's the second-largest temple complex in Southeast Asia, after Angkor Wat). Admission is around 380,000 IDR.
2. Wander Jakarta
Indonesia's capital is a large, bustling city with a population of over 10 million. You could easily spend a few days here as there is a lot to see. Admire Istana Merdeka, the presidential palace (visitors are not allowed inside); see the Monas Tower, a symbol of Indonesia's independence; check out Ancol Beach; visit the National Museum, and go shopping at the Jalan Surabaya Flea Market. For a moment of calm, people-watch from one of the cafes overlooking Fatahillah Square in the Old Batavia, the Dutch Quarter, where you can take in the historic architecture as you take in the local pace of life.
3. Snorkel or dive in Bunaken
The Bunaken National Marine Park is located in the Bay of Manado and it's where you want to go if diving or snorkeling is your thing. These deep waters offer fantastic visibility and some of the world's most biodiverse marine life. Keep an eye out for tuna, sharks, rays, turtles, sea snakes, and more. Entry to the marine park is 50,000 IDR per person, though children under 10 enter free.
4. Broaden your taste buds
Indonesia is home to 17,000 islands and over 260 million people. The country is brimming with diverse cultures, traditions, and beliefs. If you want some idea of how diverse this place is, there are over 700 languages spoken here! This diversity is very much reflected in the food. Javanese, Sundanese, Padang, and Balinese food are just some of your options. Hit the markets, participate in cooking classes, or take food tours to get a taste of what the country has to offer. Your tastebuds will thank you!
5. Visit Yogyakarta
Yogyakarta is Indonesia's cultural hub and is a much less industrial city compared to Jakarta. There is an interesting blend of old customs with modern living here (the region still has a sultan/monarchy). It's a hip place filled with street art, galleries, cafes, great nightlife, and a strong arts community. Yogyakarta is also a good jumping-off point for exploring the popular and picturesque Borobudur and Prambanan sites.
6. See the orangutans in Sumatra
A mysterious and rare primate, the orangutan finds its habitat on the Indonesian island of Sumatra. A visit to see these primates is a moving experience. And, given the rapid deforestation and fires in the area, you probably want to do this sooner rather than later as these animals are gravely endangered. If you go, make sure you're traveling with an eco-friendly tour company. Reputable companies don't let you get in close contact with the animals, as the risk of disease is too high. Even a common cold can knock out a baby orangutan. Nevertheless, seeing these majestic animals is an amazing and life-changing experience. Week-long guided treks cost around 20,000,000 IDR per person.
7. Experience village life in Kalibaru
Kalibaru is a small village on the southeastern side of Java. It's quiet, secluded, and a great place to tour one of the many plantations (cacao, coffee, dragon fruit, rubber, and spices, among others) in the area on your way to or from Bali. It's not as well-visited as many other places in Indonesia, meaning you can escape the crowds and get a chance to experience what local life is really like. You can stay here after a trip to Mount Bromo, or just visit on a day trip.
8. See the Bogor Botanical Gardens
Located 65 kilometers (40 miles) outside of Jakarta, the Bogor Botanical Gardens have over 200 acres of land and 15,000 species of plants and trees. The gardens are a lovely spot in which to lose yourself for a couple of hours with a book and some snacks. Admission is around 26,000 IDR. There is a commuter train between Bogor and Jakarta with a stop right next to the gardens.
9. See the Banyu Wana Amertha Waterfalls
These are some of the most beautiful waterfalls in Bali, and yet not many people make the trek here. They're located about 90 minutes from Ubud, and then you have to hike through a banana plantation to reach the falls. It's worth it as there are several sets of falls to explore. Just make sure to bring your swimsuit!
10. Explore the megaliths in Bada Valley
Near Lore Lindu National Park are 400 ancient stone megaliths scattered around the hills. No one really knows the origins of these structures, but they're thought to be over 5,000 years old. No settlement remains or tools were ever found in the area. It's best to hire a local guide here as the megaliths are not easy to find.
11. Visit the House of Danar Hadi
The House of Danar Hadi in Surakarta (Central Java) is considered one of the world's best batik museums, with a handpicked selection of favorites from the owner's collection of 11,000 pieces (batik is a cloth-dyeing method from Java). You have to take a tour to see it all, but it's worth it. There are lots of antique and royal items on display. They also have batik demonstrations showcasing how these detailed pieces are made. Admission is 35,000 IDR.
12. See the lakes in Kelimutu National Park
Kelimutu National Park, on the island of Flores, is renowned for its tri-colored crater lakes. The crater lakes have continuously changed color over the years, likely due to the mineral makeup in the water. Sometimes they're green, black, brown, red, blue, etc. The lakes are very sacred among the locals, who believe that they're the final resting spots of departed souls. Moni is the closest town to the lakes; from there you can take public transportation to the park. Admission to the park is 150,000 IDR.
 
For more information on specific destinations in Indonesia, check out these guides:
Indonesia Travel Costs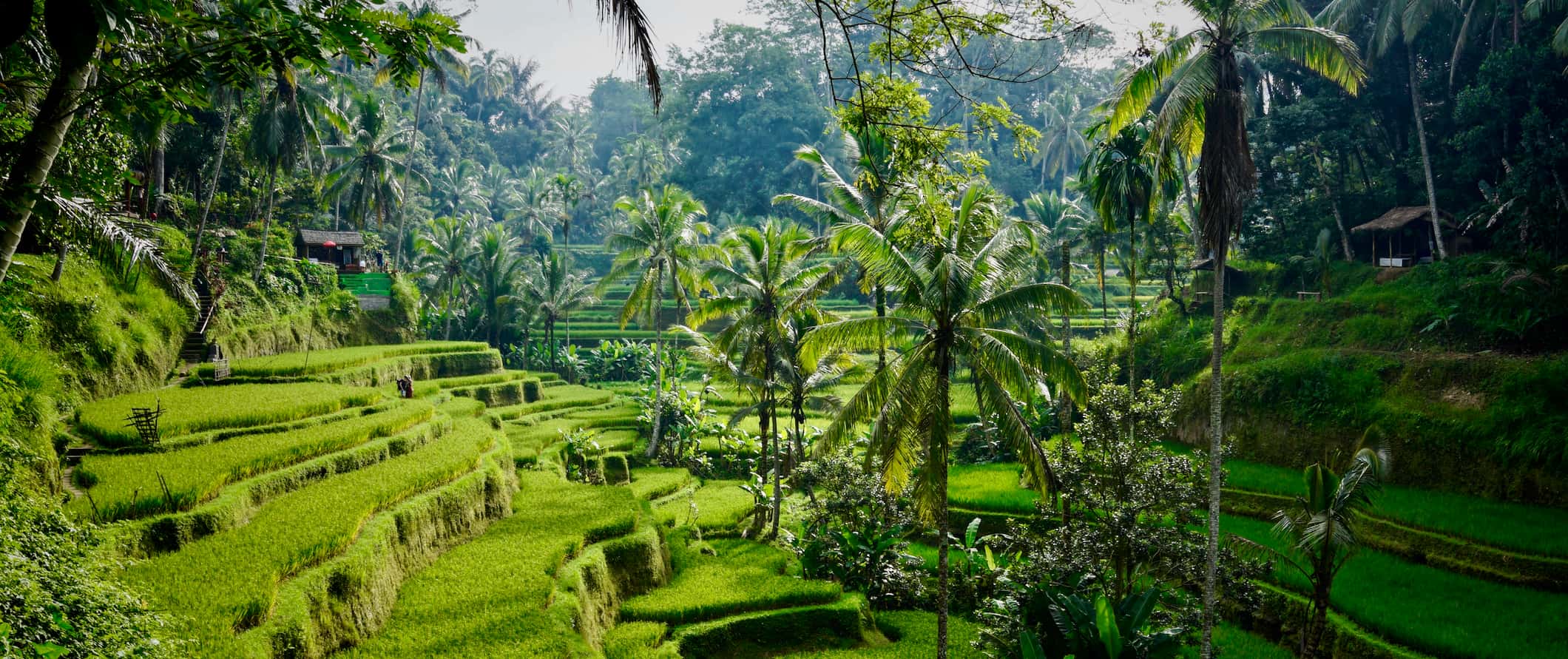 Accommodation – A bed in a dorm hostel dorm can cost as little as 55,000 IDR but most places are closer to 100,000 IDR. For a private double room, prices start around 175,000 IDR. Free Wi-Fi is standard and some hostels offer self-catering facilities and free breakfast.
Most budget hotels begin at 300,000 IDR per night for a double room that usually includes free Wi-Fi and breakfast. For a three-star hotel, prices begin around 400,000 IDR per night.
Airbnb is also widespread throughout the country, with private rooms starting from around 300,000 IDR per night. For entire apartments, expect to pay at least 400,000 IDR per night. Book early, however, or prices can double.
If you're booking through Booking.com, keep in mind that many of the listings are actually homestays and private residences.
Since hostels and homestays are so cheap, camping is not very common unless you're on a guided trek.
Food – Food in Indonesia is heavily influenced by a number of cultures, most notably Chinese, Indian and Malay cultures. Lots of dishes have a rice (nasi) or noodle (mie) base and, in some cases, that's the whole dish, such as with nasi ayam (chicken rice). Be sure to try the Balinese take on satay (where the meat is minced and wrapped on skewers) and babi guling, a delicious suckling pig that is roasted for hours. Another popular choice is oxtail soup. Be mindful that the food here can be a little spicy.
The food here is extremely cheap by Western standards, with street food costing under 10,000 IDR. It's also delicious in part because much of it is based on fresh spices and herbs. Expect rice and noodle-based dishes such as nasi goreng (stir-fried rice with chicken, egg, and vegetables) and mie goreng (a spicy fried noodle dish with garlic, onion, meat, egg, and vegetables) as well as gado gado (comprising of steamed vegetables, tofu, tempeh, sometimes egg, and peanut sauce), and lots of satay.
For an inexpensive meal at a local restaurant, expect to pay around 25,000 IDR. For a meal at a mid-range restaurant with table service, prices start at 125,000 IDR per person. Western food is much more expensive but is still relatively affordable at under 100,000 IDR for a meal. For the cheapest food and a fun experience, head to the night markets.
Fast food like Mcdonald's costs around 50,000 IDR for a combo meal. A beer at the bar costs around 30,000 IDR.
If you plan on cooking your own meals, a week's worth of groceries costs between 450,000-500,000 IDR. However, food in the country is very cheap and I would encourage you to eat out as often as possible as kitchens are hard to come by!
Backpacking Indonesia Suggested Budgets
On a backpacker budget of 425,000 IDR per day, you can stay in a hostel dorm, eat some street food, cook some meals, rent a bicycle to get around, and do mostly free activities like hiking and enjoying the beach. If you plan on drinking, add another 30,000-60,000 IDR to your daily budget.
On a mid-range budget of 1,100,000 IDR per day, you can eat out at more restaurants, stay in a budget hotel or a private hostel room, rent a scooter to get around, drink more, enjoy some massages, and go diving.
On a "luxury" budget of 2,350,000 IDR or more per day, you can stay at a nicer hotel or villa, take taxis or private minivans to get around, eat Western food, drink more, and do any adventure activities you want. This is just the ground floor for luxury, however. The sky is the limit!
Accommodation
Food
Transportation
Attractions
Average Daily Cost
Backpacker
150,000
100,000
75,000
100,000
425,000
Mid-Range
350,000
300,000
200,000
250,000
1,100,000
Luxury
750,000
600,000
500,000
500,000
2,350,000
Indonesia Travel Guide: Money-Saving Tips
While Indonesia is super affordable, it's also easy to splash out here (especially in Bali). To help you save money, here are some specific ways you can keep your spending down while you're here:
Eat on the street – You can pick up tasty local fare for under 10,000 IDR. Street-side snacks, soups, and noodles are super affordable and super tasty.
Bargain hard – Nothing is ever at face value in Indonesia. Bargain with sellers as most of the time the prices they quote aren't the prices you end up paying if you bargain!
Drink cheap – Save money on alcohol by heading to the local happy hours (or just buying your drinks at a local store instead of the bar). This is the cheapest way to drink!
Book online in advance – If you're planning on hitting up some of Indonesia's most popular destinations, such as Bali, it's actually cheaper to book your accommodations (and sometimes tours) online in advance rather than showing up and trying to strike a deal.
Pay bus attendants directly – When you're taking an intercity bus, don't purchase a ticket from a ticket window. It's cheaper to pay directly on the bus.
Rent a bike – In many places, such as Bali and Gili, you can easily get around on two wheels. Rent a bike for as little as 40,000 IDR per day. It's a great way to get around on the cheap.
Take taxis – Taxis are essential for getting around in some parts of Indonesia, and they can be cheap. Just make sure the driver puts the meter on before you depart (or agree on a price before you get in).
Bring a filtered water bottle – Indonesia has a ton of plastic waste. It has so much that a lot of it just gets burned. You'll see — and smell — it during your visit. Bring a reusable water bottle with a filter to save both money and the environment. I personally like Lifestraw.
Where to Stay in Indonesia
Looking for a place to stay during your trip? Here are some of my favorite places to stay in Indonesia:
How to Get Around Indonesia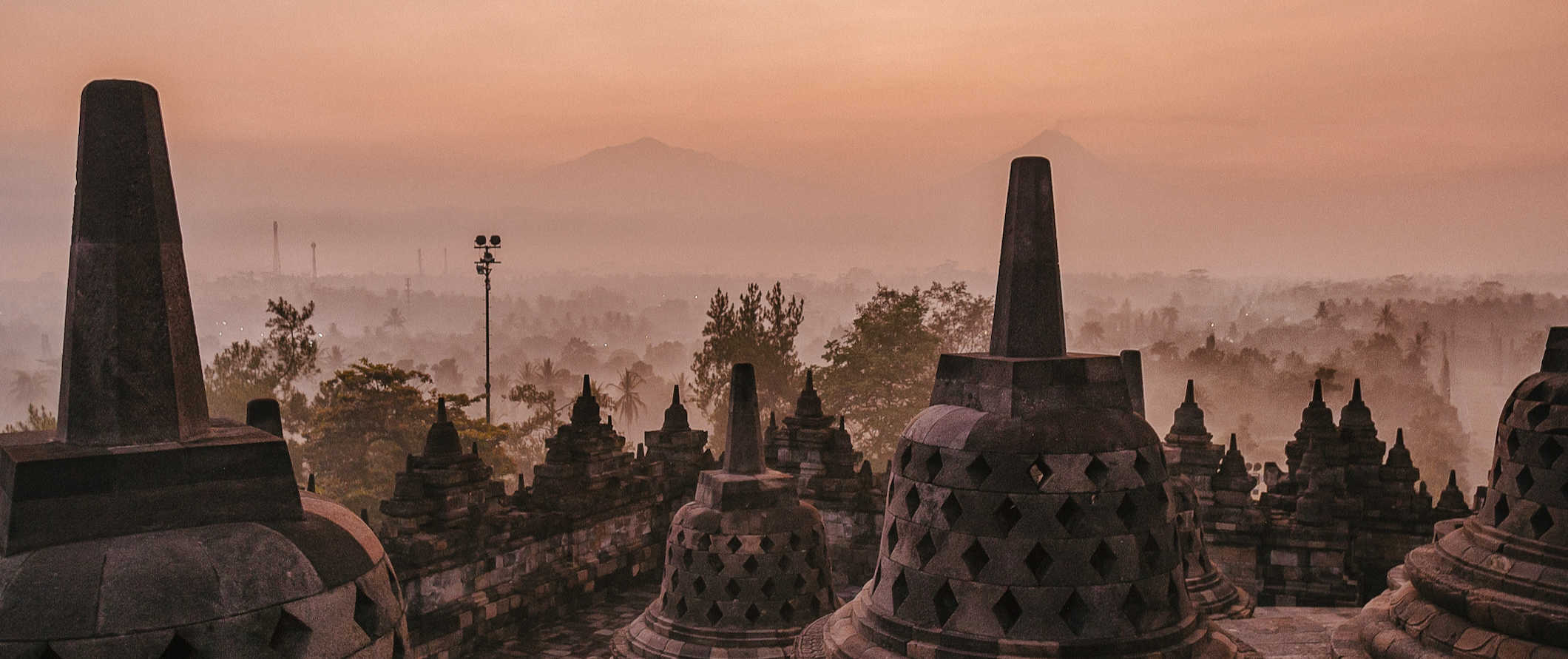 Public transportation – Public buses aren't really used for city transport except on Java. There's an extensive network in Jakarta, known as the Transjakarta Busway. Fares cost 3,500-9,000 IDR for any destination in the network. You have to pay with a card that costs 40,000 IDR (it comes with a 20,000 IDR credit) from station ticketing offices.
Otherwise, most people get around by becak, a three-wheeled pedal or motor-powered cart. You should negotiate your fare before you get in; ask your hotel/hostel staff for up-to-date price estimates.
Taxis are also affordable, and they're metered in major cities. Bluebird Taxis is available in most places, and they're the most dependable company for metered taxis and English-speaking drivers. There's a smartphone app that makes it really easy to order taxis. The starting rate is around 7,500 IDR and then 5,300 IDR per kilometer.
Grab (an Uber offspring) is a household name in Southeast Asia. It is convenient but sometimes costs even more than a taxi. Gojek is a similar option. Be forewarned: if you order a Grab or Gojek, you might wind up on the back of a motorbike.
Ferry – For traveling between islands, ferries start around 15,000 IDR for a ticket from East Java to West Bali, and the rates go up from there for other routes. Bali to the Gili Islands is 175,000 IDR (one way) on a speedboat.
While it's not necessary to book in advance it's a good idea to do so during peak season or on more popular routes. You can buy tickets on the ferry company's website or via a ticket agent like 12go.asia.
Bus – Buses are the main way for locals and tourists to get around Indonesia. It's a good idea to book your long-distance tickets in advance, especially if you want an air-conditioned ride. You can buy a ticket from a travel agent, or visit the bus terminal. Your accommodation may also be able to arrange your transportation.
A 12-hour journey on a bus costs around 170,000 IDR. A short journey, like the one from Kuta Beach to Ubud, is less than 80,000 IDR and takes one hour.
If your ride is a shorter one, you might end up on a bemos (mini-bus). In this case, negotiate your fare beforehand.
Train – In Indonesia, the cities of Java are well linked by train, including Jakarta, Bandung, Surabaya, Probolinggo (for Mount Bromo), and Banyuwangi (the ferry terminal for Bali). Economy class from Jakarta to Surabaya takes 10.5 hours and costs about 190,000 IDR, while an 8-hour executive class trip can cost from 620,000 IDR. Surabaya to Probolinggo (for Mount Bromo) takes 2-3 hours and costs 27,000 IDR for economy or 240,000 IDR for executive class. Surabaya to Banyuwangi (for Bali) takes 6-7 hours and costs as little as 56,000 IDR for economy or 235,000 IDR for executive class. You can reserve your tickets at tiket.com.
Flying – Garuda Indonesia is the country's main airline offering international service as well as domestic flights. Lion Air and AirAsia also offer plenty of domestic routes, although Lion Air's safety record is spotty and I wouldn't advise traveling with them.
Flights between Jakarta and Bali start around 900,000 IDR each way, while Jakarta to Lombok starts around 1,200,000 IDR. Lombok to Bali is around 1,100,000 IDR. However, this isn't the cheapest way to travel and is only recommended if you have limited time.
Hitchhiking – Hitchhiking is possible here, though it's not super common. English isn't widely spoken so you'll want to learn some phrases before you go. For more tips and information, check out Hitchwiki.
When to Go to Indonesia
Indonesia has just two seasons: the wet season and the dry season. Dry season lasts from May to September while the rainy season occurs from October to April. The average daily temperature year-round is 28°C (80°F).
Overall, the best time of year to visit is between May and September when it's dry and sunny. It's still pleasant to visit during the rainy season, however, as rainfall usually comes as fast and intense downpours that only last a few hours.
The Nusa Tenggara region is more affected by the wet season which may sometimes result in flooding. The wet season may also be a problem if you're looking to get off the beaten track in Indonesia, as muddy roads can sometimes keep you from getting around.
In Bali and Kalimantan, the extremes between seasons aren't drastic. The dry season is the best time to climb the volcanoes, and the best time to dive is from April to September. (If you are expecting to do some climbing, remember to pack some warm layers. It gets cold at the top!)
How to Stay Safe in Indonesia
Indonesia is a safe place to backpack and travel. Violent crime is rare. Petty theft (including bag snatching) is the most common type of crime in Indonesia. It's most common on public transit as it's easy for thieves to grab your wallet or purse when you're distracted by all the chaos around you. Staying alert and securing your valuables is the best way to prevent petty theft.
Credit card fraud is also common in Indonesia. To avoid this, it's always best to pay with cash when possible. To avoid getting your information stolen at an ATM, enter a reputable bank to withdraw money from there.
There are a lot of small scams around the island and you can read about how to avoid these common travel scams here.
Solo female travelers should generally feel safe here but the standard precautions apply (never leave your drink unattended at the bar, never walk home alone intoxicated, etc.). The country is big and, while generally safe, there are certain spots you'll want to stay more vigilant in. There are countless solo female travel blogs out there that can give you specific information on how to stay safe.
Earthquakes are common in Indonesia, owing to its location on the Ring of Fire (it experiences more earthquakes than any other country). Make sure you know where your exits are during an emergency. Also, download an offline map and languages translation pack in case you need it during an emergency situation where you don't have mobile data/Wi-Fi.
If you experience an emergency, dial 112 for assistance.
When in doubt, always trust your instincts. If a taxi driver seems shady, get out. If your hotel or accommodation is seedier than you thought, go somewhere else. Make copies of your personal documents, including your passport and ID, in case of an emergency.
The most important piece of advice I can offer is to purchase good travel insurance. Travel insurance protects you against illness, injury, theft, and cancellations. It's comprehensive protection in case anything goes wrong. I never go on a trip without it as I've had to use it many times in the past. You can use the widget below to find the policy right for you:
Indonesia Travel Guide: The Best Booking Resources
These are my favorite companies to use when I travel. They consistently have the best deals, offer world-class customer service and great value, and overall, are better than their competitors. They are the companies I use the most and are always the starting point in my search for travel deals.
Skyscanner – Skyscanner is my favorite flight search engine. They search small websites and budget airlines that larger search sites tend to miss. They are hands down the number one place to start.
Hostelworld – This is the best hostel accommodation site out there with the largest inventory, best search interface, and widest availability.
Agoda – Other than Hostelworld, Agoda is the best hotel accommodation site for Asia.
Booking.com – The best all around booking site that constantly provides the cheapest and lowest rates. They have the widest selection of budget accommodation. In all my tests, they've always had the cheapest rates out of all the booking websites.
Get Your Guide – Get Your Guide is a huge online marketplace for tours and excursions. They have tons of tour options available in cities all around the world, including everything from cooking classes, walking tours, street art lessons, and more!
SafetyWing – Safety Wing offers convenient and affordable plans tailored to digital nomads and long-term travelers. They have cheap monthly plans, great customer service, and an easy-to-use claims process that makes it perfect for those on the road.
LifeStraw – My go-to company for reusable water bottles with built-in filters so you can ensure your drinking water is always clean and safe.
Unbound Merino – They make lightweight, durable, easy-to-clean travel clothing.
Indonesia Travel Guide: Related Articles
Want more info? Check out all the articles I've written on Indonesia travel and continue planning your trip: